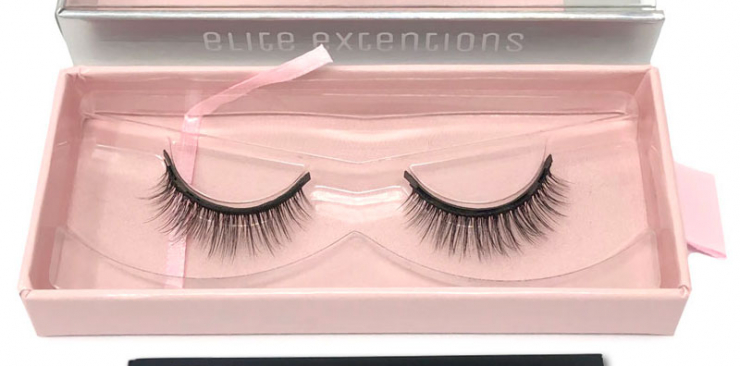 How to apply magnetic lashes
There are several types of eyelash extensions available on the market today which can be categorized into two principal groups: lash-to-lash or multi-lash volume extensions. The first technique consists of gluing the false lashes, one by one to your individual natural lashes. The second is to glue more than one synthetic lash at once. Russian lashes fall within this category and are used to create a maximum volume effect.
Magnetic lashes are long-lasting. Opt for these beautiful extensions no matter what the occasion is and thanks to their strong shape, you can wear them all day with confidence.
Take a look at the selection of eyelash extensions offered by Expert Hair Extensions, the French leader in the extensions market. Discover our magnetic lashes which are made with five small magnets. Choose between either our natural magnetic lashes or Russian volume magnetic lashes which can be purchased in handy packs with everything you need to apply them.
Why wear magnetic lashes?
Magnetic lashes are a fantastic way of obtaining beautiful eyes and a stunning look without having to spend a long time putting makeup on each day.
Magnetic lashes save you time getting ready in the morning. Applying them is quick and simple, unlike mascara which requires a certain amount of time and patience. There is no doubt that magnetic lashes will give you stunning results.
Do you sometimes find yourself taking your makeup off in a hurry at the end of the day and then waking up in the morning with your head stuck to the pillow looking like a panda? Magnetic lashes could be the perfect solution for you. You'll save time in the evening getting ready for bed as taking them off is as simple as putting them on.
In addition, magnetic lashes will give your lashes extraordinary volume giving you a look that is more stunning and impressive than the one you can obtain with just mascara. So what are you waiting for? The way forward for fuller lashes is, without a doubt, magnetic lashes!
Magnetic lashes are extremely comfortable to wear. Mascara can sometimes feel clumpy and heavy throughout the day, however, you will not experience this with your new lashes.
If you have decided to not go for one of our packs, you can complete your collection of supplies with a magnetic eyeliner and magnetic eyelash extension applicator. These will be of precious help and will enable you to handle your lashes with care and precision, all in record time!
So how do you apply magnetic lashes? Nothing could be easier. Follow our advice and guidance for a new life with luscious lashes!
How to apply magnetic lashes
Applying magnetic lashes is a piece of cake and you are going to love it.
At Expert Hair Extensions, we only offer magnetic eyelash extensions which are far easier to apply than the classic ones which require glue and a lot more patience. These beautiful lashes are put in and worn with an ingenious magnetic application method.
This is an ideal solution if your skin is sensitive as the glue can sometimes cause a bad reaction.
Take your magnetic lashes and cut them to fit the width of your eye, then simply apply your eyeliner and connect your extensions. Our eyeliner has a beautiful matte black shade that will give great depth to your eyes. Don't forget to give the applicator a shake before applying it. The tip of this eyeliner is beautifully comfortable and will glide smoothly over your eye. Draw a line of the same thickness as the magnet of your extensions, then wait until the eyeliner is around 80% dry, before applying your extensions. Using your eyelash extension applicator, hold your false lashes and place them precisely on top of your eyeliner layer. Using the tip of your applicator gently line up your lash extensions into place.
To remove them, the process is just as simple. Gently peel them off starting from the sides. Remember to remove your make-up after with a soft, soothing oil. Never put water on your eyelash extensions. After use, store them in the provided case to protect them and prevent them from getting lost.
You can reuse your magnetic eyelash extensions up to forty times. Whether they are for parties or for professional occasions, you won't be able to live without your fake lashes!