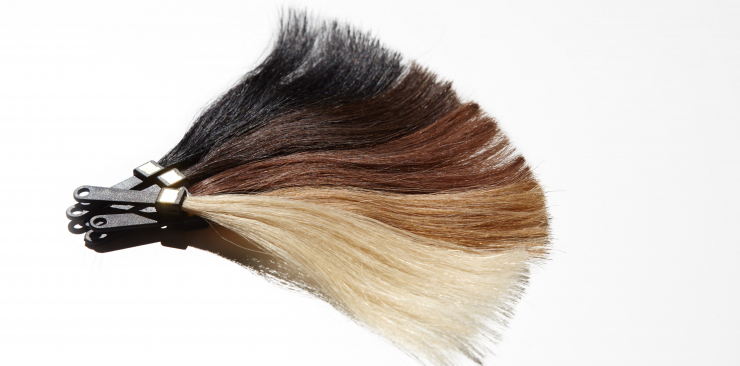 Tutorial : how to apply hair extensions ?
Are you tired of your hair lacking length and volume? Wouldn't you just love to have a beautiful head of hair and be able to change your style as often as a celebrity? So maybe you have thought about hair extensions? If you have landed on this page, it's probably because you are already thinking about this fantastic solution to solve your problems, and are curious to find out more about how to put them in.
Expert Extensions, the number 1 in natural hair extensions on the French market, is here to guide you through the process with our tutorials and show you how to apply cold and hot fusion hair extensions, as the techniques are not the same. You won't need any special equipment to put your cold fusion extensions in, whereas when it comes to the hot fusion method, you will need at least a pair of heated tongs to melt the keratin that binds your hair and extensions. Once your extensions are in place, all that's left to do is enjoy your luscious locks, strutting down the street with your head held high like a princess.
By following our step-by-step instructions, you see that hair extensions are the perfect solution to your needs. They will simplify your life, giving you gorgeous results to make you feel more beautiful and more feminine than ever!
How to apply cold fusion hair extensions ?
Cold hair extensions come in several forms and so you'll need to choose the one that suits you best. The three following application techniques do not require keratin or glue. These techniques are the quickest and the most affordable.
There are three common cold fusion application techniques: micro loops, clips and adhesive strips.
With micro loops, your extensions are applied using this fast and simple method by threading small amounts of hair through the micro loop. But how do these extensions stay in? Once you have received your hair extensions, lay them out neatly next to you and make sure you have two mirrors ready so you can see what you are doing. For magnificent results, try to be as precise as possible, which will make all the difference in the end. To facilitate the application, begin by untangling your hair, then take a comb and section your hair horizontally from ear to ear and start adding the extensions along this hairline. You can add some hairspray to your hair to make it easier and keep those little wispy hairs under control. Once your hair has been looped through and is in position, all that is left to do is flatten the ring with a small pair of pliers. Repeat this process until you reach the top of your head.
The same method can be followed when applying the clip-in extensions. Separate your hair from ear to ear, then slightly backcomb it near the roots and begin to apply the extensions. Start with one of the widest strips and clip it as close as you can to your head. Do the same for the second strip, making sure it is parallel to the first one. Feel free to brush and even cut the length of your extensions as you feel necessary.
The preparation steps for the third technique are the same and the above guidelines should be followed to section your hair. The only difference here is that instead of rings or clips, the extensions are attached using small adhesive strips that stick together.
Whichever technique you choose, remember to brush your hair afterwards and style it in the best way to maximise the volume and full-bodied effect that you have created.
With these explanations in mind, let's look at the following tutorial: how to apply hot fusion hair extensions.
How to apply hot fusion hair extensions ?
In addition to the above cold fusion extension application techniques, we also have a hot fusion method. Even though the end goal remains the same, the technique is slightly different. This approach is a little more difficult and requires some special equipment. If in doubt, we would suggest going to your hairdressers with your Expert Hair extensions to have them put in for you.
The hot fusion application technique will give you top quality results that last. You'll be amazed at how much they'll enhance your appearance and how natural they look! Let's take a look at our tutorial on how to apply hot fusion hair extensions.
First of all, make sure you have the right equipment for the job, including a hot tong/pair of straighteners for the keratin. The hot tong will heat and melt the keratin- based tip and fuse the bond at the end of the extensions to your natural hair.
As with cold extensions, you will need to separate your hair by making horizontal lines on both sides of your head. The more lines you create and the more extensions you add, the more volume you will achieve. Make sure you always leave about two centimetres between each horizontal line so that when you tie your hair back, people won't be able to notice your hair extensions.
Using your hot tongs, work along the line adding the extension strands until you reach the top of your head and don't go any higher than your temples.
The advantage of hair extensions is their durability. They will stay in place for at least two to three months while remaining in tip-top beautiful condition. Take care of your extensions as you normally would your real hair. Apply a gentle shampoo and repair serum every week and brush it thoroughly every morning and evening. Finally, we would recommend plaiting your hair at night to prevent it from tangling and therefore keep your locks looking as gorgeous as possible!