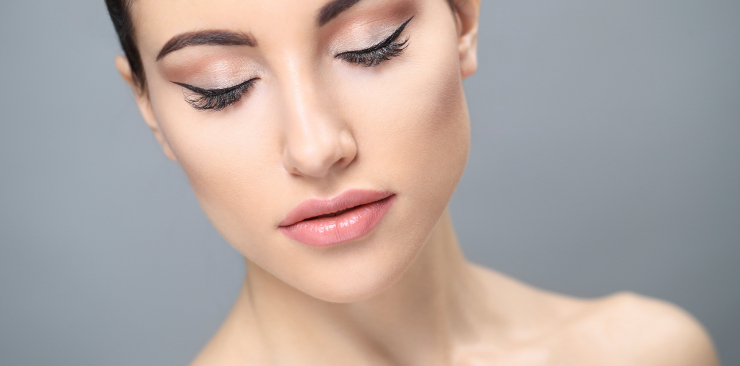 Tutorial: how to apply eyelash extensions ?
Have you always dreamed of having smouldering eyes that no one could stop looking at? Imagine blinking at someone and having everyone in the room gazing at you in amazement. So to make your dream come true, you have decided to buy a pair of eyelashes from Expert Extensions, the French leader in natural hair extensions and false eyelashes. The wait is now over for long, thick lashes and that killer look.
So, armed with your new eyelash extensions, you are now wondering how to apply them yourself and you'd prefer to glean some advice beforehand. You are in the right place! As experienced specialists in this field, we are here to guide you through the steps. As soon as you know how to apply eyelash extensions, you will understand how easy it is and wonder what all the worry was about before. You won't be able to live without them when getting ready in the morning. These false eyelashes will enhance your face to new levels, your eyes will glow with natural beauty and no one will see that they are not your real eyelashes.

Take a look at our tutorial by reading the following steps to explain how to apply eyelash extensions and let's get to it. It's time to enhance those eyes!
Tutorial: how to choose your lashes?

Every morning, putting on mascara takes time and energy. We cannot deny that this make-up application requires a certain amount of concentration, which is often not that easy when you've just got out of bed! This is why, after much consideration, you've decided that wearing false eyelashes could be an excellent solution. Far from being old-fashioned, false eyelashes are still very much appreciated and worn by many women, with more and more wearing them on a daily basis.

There are several types of false eyelashes to choose from. Full fringes, which are ideal for a refined result, half false eyelashes, which give a very glamorous doe-eye effect, and individual false eyelashes, which give a very natural, seamless and fluttery look. If you suffer from uneven eyelashes, this last solution will be perfectly suitable. This technique is also great as the lashes are easier to apply and will take you very little time to get ready.

Have you got a party coming up? Opt for the glittery false lashes for a glamorous and killer festive look and make yourself the centre of attention. And for a maximum volume effect opt for a pair of Russian volume false lashes. These top quality lashes are applied individually so for an intense knockout look, head to our online shop at Expert Hair Extensions and treat yourself!
The choice of false eyelashes must be made according to the morphology of your eyes so as not to highlight any defects. For those who have close-set eyes, we would recommend enlarging them by placing more lashes on the outside. For those who have wide eyes, create a fan effect by placing shorter lashes towards the inside of the eye.

For those with down-turned eyes, use shorter eyelashes on the outer part of the eye, and longer ones in the centre.
Women with mono-lid eyes should place the lashes on the lower eyelid to really open up your gaze.
Those with round eyes simply place longer lashes on the outside to make your eyes appear less round and more of an almond shape.
Now that you have the right information to help you decide which false eyelashes to choose (or perhaps you have already made your choice), let's head to the tutorial and see how to apply eyelash extensions yourself.

Tutorial: How to apply your eyelash extensions yourself

Knowing how to apply eyelash extensions is simple and so applying them yourself is just as easy, so what are you waiting for? Let's get down to it!
When applying the strip eyelashes, take your eyeliner and draw a line along your upper eyelid and then take your eyelash strip with your tweezers and place it gently on your lashes. We would recommend the magnetic option such as those eyelashes offered by Expert Hair Extensions to help prevent getting glue on your eyes and for maximum natural results. Be mindful that the glue can sometimes cause a reaction. By applying a magnetic eyeliner along your eyelid, all you have to do is simply join the magnetic strips together. If you have used glue, wait a few seconds for it to dry and harden.
On the other hand, when it comes to applying individual false eyelashes, you'll need to apply some mascara beforehand and then use some tweezers to stick your eyelashes on one by one as close to the root as possible.
Although all these techniques offer beautiful results, if speed, success and a stunning gaze is what you are looking for, then magnetic false eyelashes remain the best solution.
So now you know how to apply eyelash extensions. How do you take them out? Fear not, the procedure is just as simple and quick! Rest assured that removing false eyelashes is pain-free, regardless of the technique you choose; you just have to be very gentle and they will come off easily.
To remove your false eyelashes correctly, soak a cotton pad in water and dab it gently on your eyes, then carefully remove your lashes with your tweezers. Then, with some make-up remover, wipe your eyes to remove any glue residue.
If you have chosen the magnetic option, simply take your false lashes and pull them off very gently. Remove your make-up and store them in the case provided to protect and prevent them from getting lost. Expert Hair Extensions magnetic lashes can be reused up to forty times. Don't wait a single moment and opt for this solution for absolutely fabulous results every day!