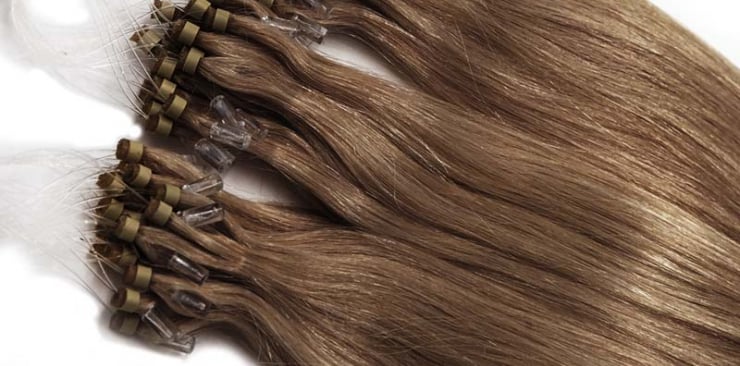 Micro loop hair extensions : definition and advice
In the world of hair extensions, there is a wide range of extensions. pre bonded , clip-in and rings hair extensions. In the category of rings hair extensions there are also several types of extensions. The one we are interested in here is the Micro loop hair extensions. We suggest you discover it in the lines of this article.
Micro loop hair extensions : Rings hair extensions

The rings hair extensions are a category of extensions including: the tape in hair extensions and the loop extensions or easyloop. The particularity of rings extensions is that they are applied with rings, as their name indicates. This means that no heating device is used during the installation. These rings hair extensions are generally less expensive and easy to apply.
What are micro loop hair extensions?

Micro loop hair extensions are a quick and easy way to get long hair without using glue or keratin. In simple terms, they are ready-to-use strands that have a lasso. The lasso wraps around your hair and pulls it through the extension strand.
Micro loop hair extensions do not require the use of any materials other than those they themselves have. The ring passes are already integrated on each of the extension strands. These are cold extensions with rings. The installation material is integrated on these rings. This type of extension is applied with a ring pass and rings. There are several types of rings on the market. The silicone ones, the simple rings and even the connectors.
How to install Micro loop hair extensions?

The most appropriate way to install this type of extension is to go to a professional. However, if you want to do it at home there are some simple techniques that will allow you to do it.
Choose the silicone ring for your application. It is practical and adheres well to even the finest hair. If you have thick hair, opt for the simple rings. If you want to go the extra mile, you can choose connectors, which are more flared on the side and give a funnel effect. The result is beautiful.
To perfect your finish, you will need accessories such as: a pair of tongs, a comb, or a brush. A straightening iron is not essential.
You should start by separating your hair strands. This will allow you to place your extensions properly and especially to avoid the effects of demarcation. You must then apply the extensions, strand by strand. This is the strand by strand method. To do this, you must pass a strand of your natural hair through the loop. Then you pull on the thread. The natural hair will immediately be caught in the ring.
All you have to do to finish your application is to flatten the ring with a steel clip. At this stage of the process, hair clips are essential to keep your hair in place. If you don't, your hair will get tangled and make it difficult to apply.
To complete a full application, it can take about an hour or more. The length of time depends on the density of your hair.
DISCOVER OUR LOOP EXTENSIONS
Translated with www.DeepL.com/Translator (free version)