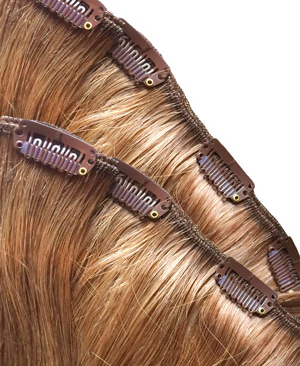 How to take care of your clip in extensions?

You have chosen clip in hair extensions to change your look, and you want to take care of your clip in extensions? Discover some effective techniques to succeed in this task!
What are clip in extensions ?

The clip hair extension is a type of extension that is fixed with small metal clips called "clip-in". These small clips allow a quick and easy installation. The advantage here is that the clip-in hair extension provides an instant change effect; you can put them on yourself. What's more, it can be reused as many times as you like and doesn't damage the hair.
There are several models of clip extensions on the market. You will find among other formats :
- straight
- smooth
- afros
- curly...
It is up to you to choose the one that best suits your hair type for a more natural look. Once applied, the extension will go into your hair for a natural look.
Wash your clip in extensions well

Like other types of extensions, clip in hair extensions require special care. It is important to note that clip extensions are worn every morning and removed at night at bedtime. Generally, they are supplied with a storage kit (cover with a hanger) to allow you to easily store them in the evening.
Washing the extensions is done in several steps. To begin, untangle the extensions as if they were your hair. In a container filled with warm water, pour a few drops of mild shampoo. Then place all the extensions in the same direction and try to close the clips. Hold each strip by the clips and dip them one after the other into the container. Then wash them gently with your fingers, avoiding tangling, and rinse them with clear water.
For natural hair extensions, apply a conditioner before rinsing. Gently squeeze out (not wring out) and place on a clean, dry towel. By doing so, you will preserve the quality of your extensions. Therefore, they will take a long time before they start to deteriorate.
Dry your clip in extensions properly

The ideal for hair extensions with clips, is to let them dry flat in the open air. However, if you use a hair dryer, it should be held at least 6 inches away from your extensions and set to "warm air" for natural hair extensions. As for synthetic hair extensions, the hair dryer could permanently damage them. It is therefore not recommended to use this material for these categories of clip extensions.
After properly drying your extensions, you can, if they are natural hair, spray a detangling spray before styling them. To style them, it is recommended to use a boar bristle brush to keep the hair fiber intact.